Recognize, Respond, Report Seminar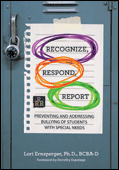 More about the seminar
Speaker
Dr. Lori Ernsperger, Ph.D., BCBA-D
Seminar length
Half day to two days
Number of participants
Up to 100 participants; call if more
Speaker Fees
½-day or 1-day seminar: $3,050.00
2-day: $5,800.00
Bullying was once a silent epidemic which was endured by millions of children on a daily basis all over the world. The attitude "kids will be kids" was just part of normal childhood development. Today, bullying in schools is recognized as a public health issue that often targets students with special needs with an estimated prevalence rate of 60%. Dr. Lori Ernsperger will provide research and ready-to-use multitiered interventions to reduce bullying and disability-based harassment. This workshop will assist teachers, administrators, and support staff in recognizing their role in bullying prevention with implementation strategies. Dr. Lori will demonstrate through videos and modeling proven ways to improve school climate with proven techniques for reducing bullying.
Learning Objectives:
Recognize the impact of bullying in schools
Translate the research into multitiered action plans
Recognize the warning signs of victims and stereotypes of bullies
Recognize the prevalence of cyber bullying
Respond with school-wide policies and procedures
Respond to the victims with individualized plans
Review federal policy letters on disability-based harassment
Emphasize school-wide bullying prevention goals and benchmarks
Promote school climate through peace building, kindness programs, and diversity
Teach bystander education and universal responses for reacting to an incident of  bullying
Respond to an incident of bullying effectively
Teach prevention skills and social skills to students with special needs
Review pertinent federal and state laws for reporting bullying
Identify key steps for investigating and preventing future incidents
Report bullying incidence and accountability
Develop student surveys and reporting systems
Who will benefit from this seminar?
General education teachers, special education teachers, special education administrators, principals, assistant principals, paraprofessionals, support staff (bus drivers, hall monitors, etc.), school resource officers, school psychologists, social workers, and school counselors.
Request more information
Includes
1/2– to 2–day seminar.