Featured Books

Must-Reads for SLPs and Educators
Based on the latest research and recommended practice, these resources from today's top experts are essential additions to your professional library. From practical guidebooks to foundational texts to ready-to-use curriculum supplements, these books will help you support language and literacy skills and build communicative competence for every learner.
---
Unsilenced
Unsilenced provides a candid look at a pivotal era in disability history and a deeply personal account of how all human beings can flourish when we care for each other and fight for change.
Building Preverbal Communication & Engagement
A must for early interventionists, speech-language pathologists, occupational therapists, physical therapists, and other practitioners, this book is the key to helping young children with disabilities learn to successfully communicate, bond with their families, and engage with their world.
Interventions for Speech Sound Disorders in Children, Second Edition
An essential building block of every speech-language pathologist's professional preparation, the second edition of this bestselling textbook is a comprehensive critical analysis of 21 interventions for highly prevalent speech sound disorders (SSD) in children.
Comprehensive Literacy for All
This essential resource for educators, SLPs, and parents will help you ensure that all students have the reading and writing skills they need.
Literacy Foundations for English Learners
Gives professionals the knowledge base they need to help English learners develop strong literacy skills and achieve academic success.
Story Frames for Teaching Literacy
Mastering the art of storytelling isn't just a goal for professional writers. Analyzing and creating stories can boost critical literacy skills for all learners—and this comprehensive resource will show teachers and SLPs how.
The Reading Comprehension Blueprint
Meticulously researched and masterfully organized, this book offers a clear blueprint for understanding the complexities of reading comprehension and delivering high-quality, evidence-based instruction that helps students construct meaning from challenging texts.
Speech to Print, Third Edition
Gives current and future teachers and SLPs comprehensive, accurate, and accessible information on the underpinnings of language instruction.
ABA for SLPs
This important resource clears up the myths and misconceptions surrounding ABA and builds a clear path to interprofessional practice between SLPs and Bas.
Connecting Through Talk
Essential reading for researchers, administrators, and educators, this synthesis of science and practical guidance will help you foster foundational language skills and nurture the healthy development of every young child.
The Intensive Phonological Awareness (IPA) Program
Developed by SLPs, this proven supplemental curriculum is the perfect way to give systematic, intensive phonological awareness instruction to students in Grades K–2.
Helping Students with Dyslexia and Dysgraphia Make Connections
A state-of-the-art set of lesson plans that can be used for differentiated instruction of students with dysgraphia, dyslexia, and OWL LD, this book gives teachers of Grades 4–6 a whole school year of specialized group instruction that improves the literacy skills of students who struggle with written language.
Teaching Dual Language Learners
Extending the groundbreaking work of Patton O. Tabors and ideal for use as a textbook or in‐service guide, this concise book compiles everything teachers need to know about working with young DLLs—and setting them up for a lifetime of school success.
Join our Communication & Language Newsletter for free resources, special offers, and more—delivered directly to your inbox!
Naturalistic Developmental Behavioral Interventions for Autism Spectrum Disorder
Rooted in both ABA and developmental theory, Naturalistic Developmental Behavioral Interventions (NDBI) are some of today's most effective, evidence-based, and widely used interventions for autism spectrum disorder.
Executive Function in the Classroom
Help K-12 teachers understand and enhance students' executive function skills-the key to long-term school and social success. This practical how-to guide is packed with ready-to-use forms and strategies that improve outcomes across subject areas.
Unstuck and On Target!, Second Edition
Now optimized for both in-person and virtual instruction! With the enhanced second edition of this popular curriculum, you'll explicitly teach flexibility, problem solving, coping, and goal setting through fun, field-tested lessons that work for learners with autism, ADHD, and other challenges that affect executive function.
Multimodal AAC for Individuals with Down Syndrome
In this groundbreaking book, discover how augmentative and alternative communication (AAC) can enhance communicative competence and improve outcomes for people with Down syndrome across the lifespan.
Interventions for Individuals with Autism Spectrum Disorder and Complex Communication Needs
People who have both autism spectrum disorder and complex communication needs require specialized, multidisciplinary interventions and supports to boost their independence and quality of life. Find up-to-date, evidence-supported information and strategies in this book, one of the newest volumes in the respected Augmentative and Alternative Communication series.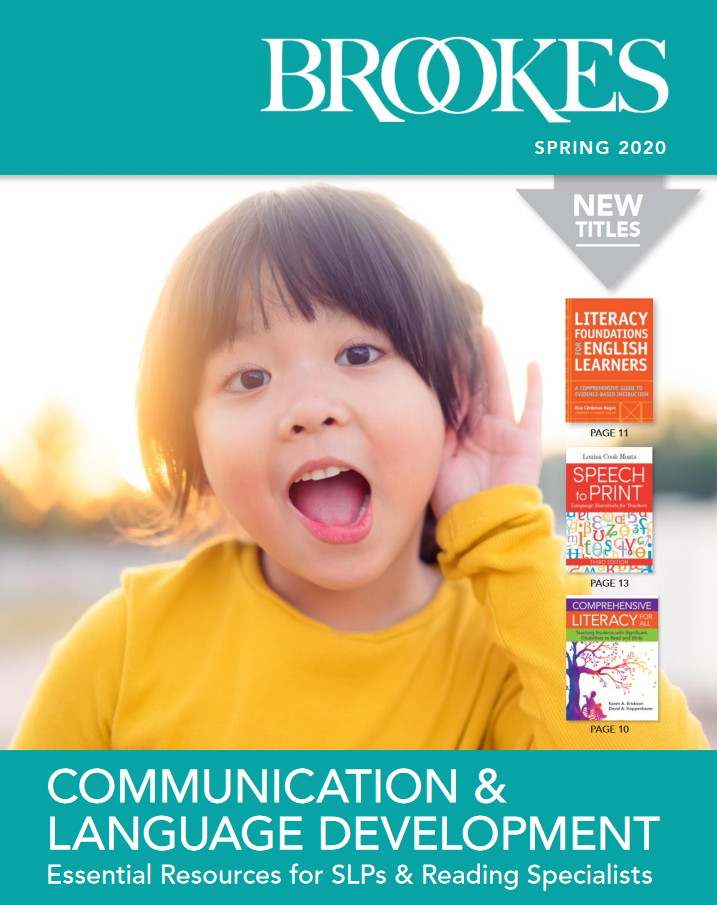 Our fully searchable, digital catalog makes it easier than ever to discover strategy-rich Brookes titles on communication & language development.
Browse the catalog
---
Find even more essential books and resources in our store