Your UDL Lesson Planner Seminar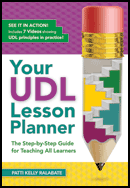 About the seminar
Speaker
Seminar length
1 to 2 days
Number of participants
20–50
Speaker Fees
1–day: $3,000.00
2–day: $4,600.00
Step-by-Step: Lesson Planning for All Learners using Universal Design for Learning
Universal Design for Learning (UDL) expert and author of Your UDL Lesson Planner, Dr. Patti Kelly Ralabate shares strategies with educators on the UDL lesson planning process, from developing clear, flexible learning goals to addressing diverse learner needs to reflecting on lesson assessments that matter. Participants actively engage in application exercises, reflection questions, and check-ins, and learn about the 6 practical steps of UDL lesson planning through classroom videos and vignettes that bring key UDL concepts to life.
Seminar contents include:
Understanding the big ideas of UDL—what it is, what it's not
Creating effective, flexible, SMART learning goals based on content and performance standards
Addressing learner variability for learners of all ages
Measuring what matters by applying UDL to the assessment of student progress
Infusing UDL features into traditional instructional methods
Selecting materials, tools, and media that add real value
Using self-reflection strategies that lead to UDL expertise
Who will benefit from this seminar?
general education teachers, preschool educators, special educators, inclusion specialists, college instructors, specialized instructional support personnel, such as speech-language pathologists, english as a second language teachers, curriculum planners, professional development providers, administrators, principals, assistant principals.
Request more information
Includes
1– or 2–day seminar (price varies based on seminar length)