AEPS-3

Better data. Better teaching. Better outcomes.
AEPS®-3 is the most powerful assessment and curriculum system for ensuring that every young child makes real progress, from the first months of life through kindergarten.
More than just an assessment, AEPS-3 gives you the tools you need to set goals, develop IFSP/IEPs, determine eligibility, plan teaching and intervention, monitor progress, and communicate with families.
AEPS-3 helps you
Collect essential assessment data and use it across your key tasks
Track and support emerging skills
Link assessment data to a tiered curriculum
Pick up small increments of progress
Actively involve families
Strengthen school readiness
Get started with the Complete Kit
Get everything you need to start using AEPS-3 in your program.
The complete kit includes User's Guide; Assessment; 3-volume Curriculum; packs of the Child Observation Data Form, Family Report, and Ready-Set; 9 Quick Reference Guides; and a USB with printable forms and resources in English and Spanish.
ORDER YOUR KIT
Individual components are also available for order.
See the full list here.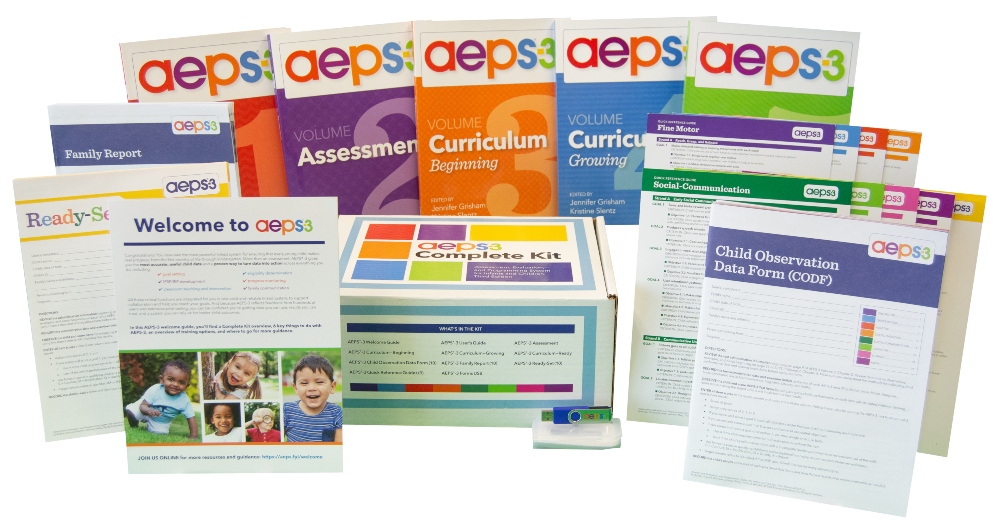 See inside the kit—
watch this short overview video
.
Get an inside look at AEPS-3 test items
The AEPS-3 Test items were thoroughly revised to reflect current expectations of children. See the new and updated items with this filled-in version of the AEPS-3 Child Observation Data Form for all 8 developmental areas, including the new Literacy and Math areas.
More AEPS Resources
State and National Standards
Questions about AEPS-3
If you have questions about the new edition, questions about AEPSi, or want a custom quote for your organization, please contact your regional sales rep.
FIND YOUR REP
Stay up-to-date on the latest AEPS-3 developments