The Teacher Survival Guides on Engagement of Students in Virtual Instruction
4 essential quick-guides for virtual instruction
K–12 teachers: keep these concise how-to guides at your fingertips year after year to help students thrive in virtual learning environments. Created by behavior experts Timothy Knoster and Danielle Empson, these practical guides help you:
Boost positive behavior, engagement, and student wellbeing and in virtual settings
Take immediate action with teaching tips, proven strategies, and FAQs
Support students' academic, social-emotional, and behavioral success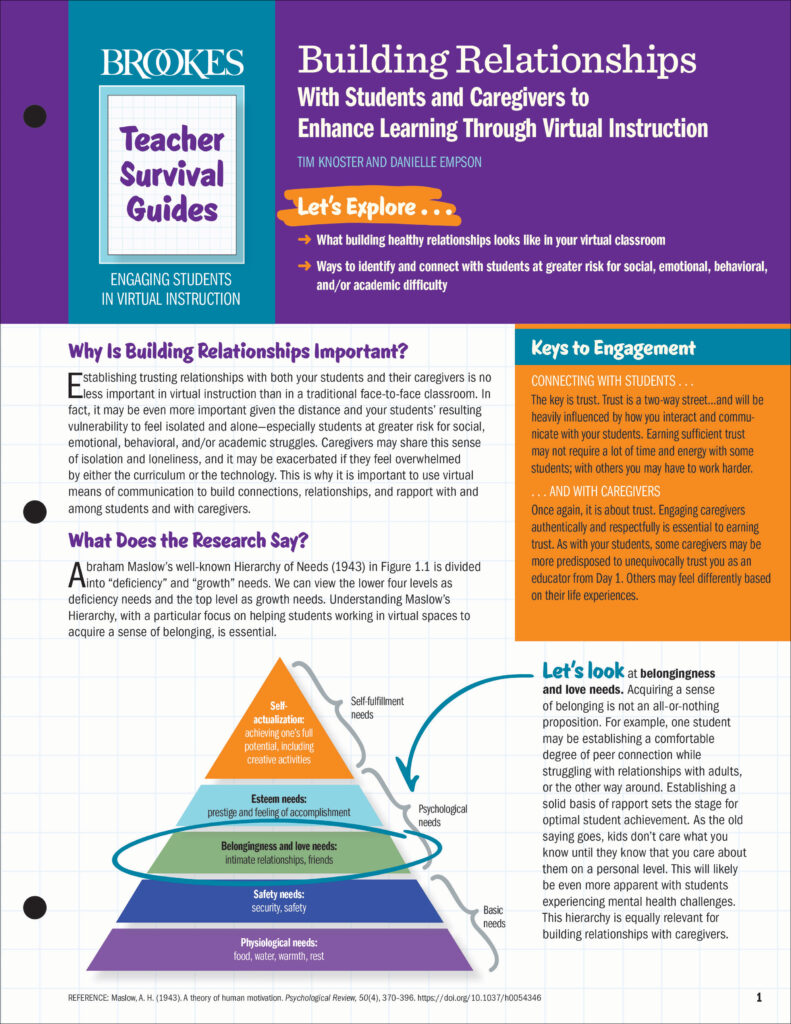 Building Relationships With Students and Caregivers to Enhance Learning Through Virtual Instruction
How can you use virtual means of communication to build connections and rapport with students and caregivers? This quick-guide shows how to create healthy relationships in an online classroom and how to identify and connect with students at greater risk for social-emotional and/or academic difficulty.
Enhancing Student Engagement by Virtually Establishing, Teaching, and Reinforcing Desired Behavior
Students in virtual settings need explicit instruction and reinforcement to master behavioral expectations. This guide gives essential tips on the interrelated components of establishing, teaching, and reinforcing desired behavior in an online classroom.
Addressing Undesired Student Behavior During Virtual Instruction
Preventing and addressing undesired behavior is essential—and especially challenging—during online instruction. In this quick-guide, you'll get tips and strategies for preventing undesired behaviors before they start, as well as ways to redirect undesired student behavior in a trauma-informed manner.
Engaging Students in Virtual Instruction Through Opportunities to Respond
Discover how to effectively engage students in your virtual instruction by offering a wider variety of Opportunities to Respond (OTRs). In this guide, you'll learn about the benefits of providing multiple OTRs, the different types and modes for student responses, and how to monitor student engagement virtually.