The fundamentals teachers need to deliver high-quality literacy instruction
Speech to Print
Language Essentials for Teachers, Third Edition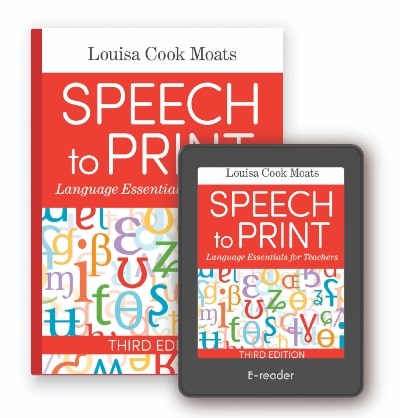 For two decades, Speech to Print has been a bestselling, widely adopted textbook on explicit, high-quality literacy instruction. Now the anticipated third edition is here, fully updated with ten years of new research, a complete package of supporting materials, and expanded guidance on the how of assessment and instruction in today's classrooms.
Request Ebook Exam Copy
What's new in the third edition
New and expanded practical content on the how of language and reading instruction
New and updated chapter exercises
New faculty support materials
More on key topics like program and curricula selection, frameworks for instructional planning, and problem solving when students are slow to respond to intervention
More accessible, undergraduate-friendly tone and structure
Additional graphics to illustrate key concepts
Want to learn more about this edition? See the full listing.
Supplement your teaching with these Online Companion Materials
Sample syllabus/course outline
PowerPoint slides for each chapter
Chapter quizzes
PDF handouts for selected concepts
Videos demonstrating production of all the sounds in the English language

Louisa Moats, Ph.D.
Dr. Moats has been a teacher, psychologist, researcher, graduate school faculty member, consultant, and author of many influential scientific journal articles, books, and policy papers on the topics of reading, spelling, language, and teacher preparation.
Dr. Moats's awards include the prestigious Samuel T. and June L. Orton award from the International Dyslexia Association for outstanding contributions to the field; the Eminent Researcher Award from Learning Disabilities Australia; and the Benita Blachman award from the Reading League.
Full bio »
Make the most of your course with the new edition of the Speech to Print Workbook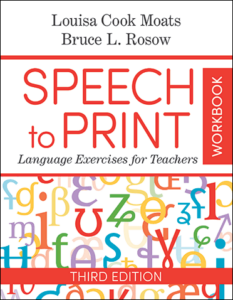 The ideal companion to the third edition of the bestselling Speech to Print textbook, this revised workbook helps teachers deepen their understanding of spoken and written English, practice and strengthen their skills and knowledge, and prepare to deliver high-quality reading instruction.
Request Ebook Exam Copy

Learn more about the workbook