TILLS™ Seminar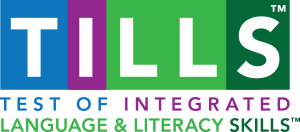 Administering, Scoring and Interpreting the New Test of Integrated Language and Literacy Skills™ (TILLS™) for School-Age Children
In our 1-day seminar, participants will receive step-by-step training in administration of the 15 subtests of the TILLS plus up to 2 additional modules offered from a variety of topics found in the listing below.
Emphasis will be on increasing fidelity as well as helpful hints to decrease time needed to administer and score. In addition, guided practice with administering and scoring will be provided as will discussions related to interpreting the TILLS for the purpose of identifying language/literacy disorders.
For a complete 1-Day Seminar, please select 2 of the following modules to round out the 1-Day seminar; 4-6 modules should be selected for a complete 2-day seminar:
More in-depth exploration of student profiles (e.g., dyslexia)
Going from the TILLS profile to intervention decisions
Use of the TILLS in tracking student changes over time or for district-wide use
More detailed discussion on the theoretical quadrant model, psychometric properties of the TILLS or uses for research
Use of the TILLS with special populations such as students with autism spectrum disorders, bilateral hearing impairment, or mild intellectual disability
Use of the Student Language Scale to gather multiple perspectives from teachers, parents, students or others regarding student academic performance required to meet IDEA
Request more information
Includes
1– or 2–day seminar covering topics of your preference (price varies based on seminar length).