Unsilenced: One Teacher's Personal Story of Battles and Breakthroughs at Belchertown
At-a-glance
Topics
Coffee Chat, Special education
Resource Types
Webinars
Author
Howard C. Shane, Ph.D.
Year
2022
Share This Resource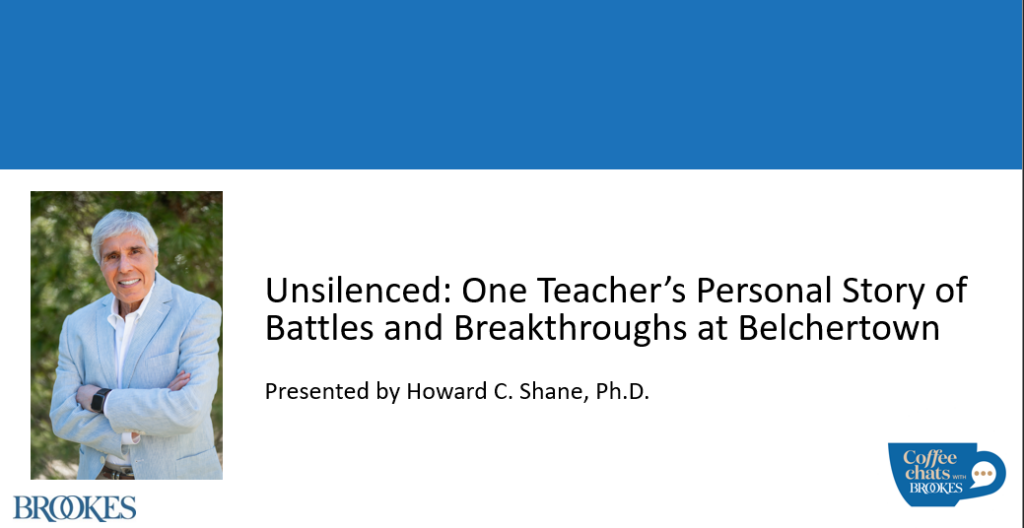 Unsilenced: One Teacher's Personal Story of Battles and Breakthroughs at Belchertown
Presented by: Howard C. Shane, Ph.D.
Age range: This chat is for everyone, no matter the age of the learners they work with.
Who this chat is for: Educators (general ed, and special ed., speech pathology, psychology); college professors (special & general education, sociology, social policy, disability rights); special education administrators; assistive technology specialists; parents of children with disabilities; readers who enjoy historical narratives; education and human rights historians
What was life like at Belchertown—a bleak institution for people with disabilities—and how did one young teacher make a difference? Find out in this candid and personal coffee chat with Dr. Howard Shane, author of the spellbinding new memoir Unsilenced.
Dr. Shane, who taught at Belchertown in 1969 and 1970 and is now a renowned expert on augmentative and alternative communication, will share his unique insights into a pivotal era of disability history in this fascinating chat. Using the experiences of several residents as vivid examples, Dr. Shane will illuminate the ways in which life in these inhumane institutions affected people with disabilities. He'll also discuss the moments of joy, pride, and accomplishment he experienced as he discovered ways to teach and reach his students and unlock their communication skills.
Attendees Will Learn About:
Raise their awareness about what everyday institutional life was like for people with intellectual disabilities
Hear firsthand stories of residents and learn how the institution system limited their potential
Get a glimpse into the beginning of what is currently known as augmentative and alternative communication, through Dr. Shane's innovative interventions with his students
Find hope and motivation in the stories of Dr. Shane's breakthroughs and triumphs—proof that one person really can make a difference
Watch the recording