Understanding and Supporting Students with Emotional and Behavioral Disorders
At-a-glance
Topics
Behavior, Coffee Chat, Special education
Resource Types
Webinars
Year
2022
Share This Resource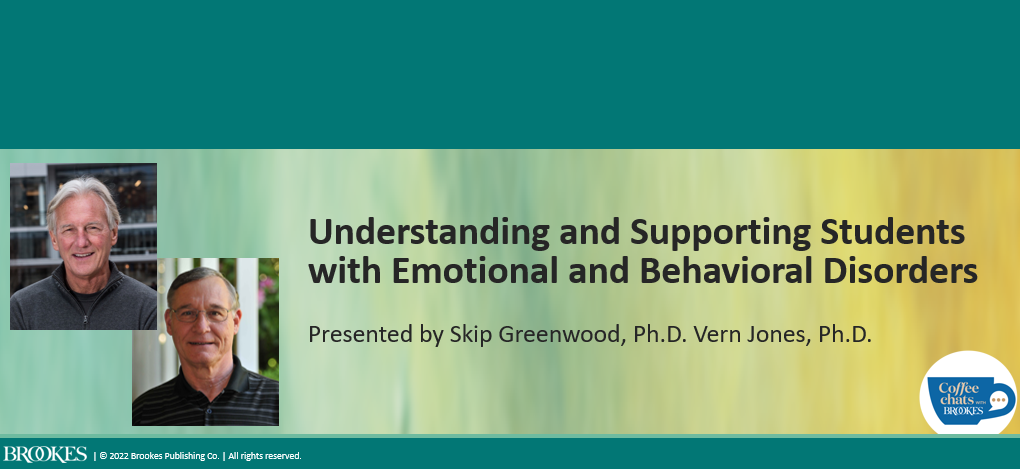 Understanding and Supporting Students with Emotional and Behavioral Disorders
Presented by: Al William Greenwood, Ph.D., Vern Jones, Ph.D.
Age range: Early Elementary (K-2) through high school
Who this chat is for: Teachers, paraprofessionals, administrators, counselors, school psychologists and non-school professionals who support students with EBD
Students who experience serious emotional and/or behavioral disorders (EBD) are at risk for a wide range of negative outcomes. Learn how to help in this coffee chat, presented by the two experts behind the upcoming book Understanding and Supporting Students with Emotional and Behavioral Disorders. A must for educators and other professionals, this presentation focuses on key knowledge and skills from the book and explores strategies for strengthening students' positive behavior and social-emotional skills.
Participants will:
Discover key assumptions that help professionals better serve students with EBD
Review the characteristics of students with EBD that must be understood in order to provide effective supports
Understand why supportive teacher-student and peer relationships are essential in assisting students with EBD
Learn about interventions that support social-emotional development for students with EBD
Explore the key components of specialized programs serving students with EBD
Watch the recording