How to Help All Students De-Stress Using the Re-Set Process—In Person or Virtually Webinar
At-a-glance
Topics
Coffee Chat
Resource Types
Webinars
Author
Dyane Lewis Carrere, M.Ed.
Year
2020
Share This Resource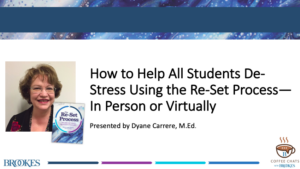 How to Help All Students De-Stress Using the Re-Set Process—In Person or Virtually
Presented by Dyane Lewis Carrere, M.Ed.
Developed by a seasoned educator who specializes in trauma-informed teaching, the Re-Set Process is a neuroscience-based approach to improving behavioral success in children from Grades K–8. In this must-watch webinar, Dyane Carrere—developer of the Re-Set Process and lead author of the upcoming book of the same name—will show you how to use this proactive, whole-class approach to help students navigate a stressful year, whether they're learning in person or virtually. Carrere walks you through the four core steps of the Re-Set Process and reveals how it can be used to help students cope with stressors and improve learning focus.
Watch the recording