SSBS-2 and HCSBS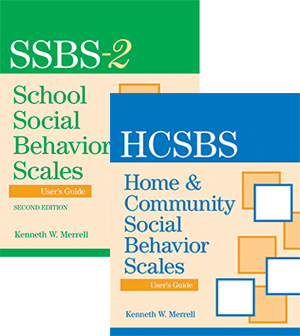 At-a-glance
Tool name
SSBS-2 and HCSBS
Use to evaluate
Two K-12 rating scales that evaluate a child's social-emotional strengths and risk behaviors at school, at home, and in the community.
Age range
K-12
Completed by
Educators, parent educators, social workers, public health nurses and other person who knows the child well completes HCSBS.
Time commitment
Less than 10 minutes
Uncover the big picture of social-emotional development
Two reliable K–12 tools for screening school and home behaviors
Catching "red flag" behaviors early is an essential part of helping children and adolescents before social-emotional difficulties become major roadblocks to success in school and in life. These two easy, reliable screening tools give K–12 education professionals a comprehensive look at a child's social-emotional strengths and risk behaviors, both in school (the School Social Behavior Scales, Second Edition) and at home and in the community (the Home & Community Social Behavior Scales).
Benefits
Get a complete, nuanced picture of a child's behaviors, both positive and negative
Identify children with challenging behaviors
Target classroom interventions and develop IEPs
Measure the effectiveness of interventions over time
Remove barriers to learning and help children reach their goals
Help families see where their children need the most support
Developers
What You'll Need
Additional products and resources
See a sample SSBS-2 rating form. The SSBS-2 provides comprehensive ratings of both social skills and antisocial problem behaviors of children and adolescents (K-12) in school settings.
View the sample HCSBS form to see the two co-normed scales: the Social Competence scale that includes 32 items that measure adaptive, prosocial skills and the Antisocial Behavior scale that…