BESA™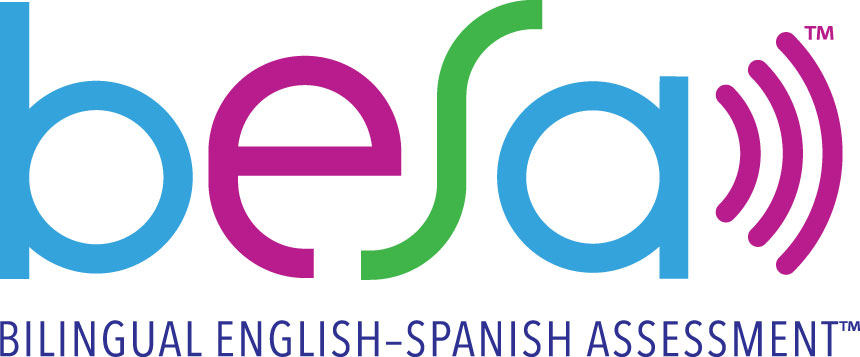 At-a-glance
Tool name
Bilingual English–Spanish Assessment™ (BESA™)
Use to assess
An assessment to identify phonological and/or language impairment in bilingual and ELL children, and to differentiate between delays in English language acquisition and true language disorders
Age range
4–6
Completed by
Speech-language pathologists. (If the SLP isn't a bilingual English-Spanish speaker, an English-speaking SLP should give the English portions, and a trained bilingual person could give the Spanish portions under supervision of the SLP.)
Time commitment
1–2 hours to administer all components, 1 hour per language
Now there's a valid, reliable assessment that specifically responds to the needs of young Spanish-English bilingual children.
When a young bilingual child experiences language difficulties, it can be hard to tell if those challenges are due to a disorder or just limited exposure to the English language. That's a critical distinction—because while limited language exposure will fix itself over time, a language impairment is a clinical issue that will cause the child difficulties in school without timely and effective intervention.
Now there's a valid, reliable assessment that specifically responds to the needs of young Spanish-English bilingual children. For use with children ages 4 through 6 years who have varying degrees of bilingualism, the Bilingual English-Spanish Assessment™ (BESA™) was developed to:
identify phonological and/or language impairment in bilingual children and English language learners using a standardized protocol
differentiate between a delay in English language acquisition and a true language disorder
document children's speech and language strengths and needs
monitor children's progress in both languages and use the information to make decisions about intervention
Benefits
Valid and reliable. There are very few assessment tools for bilingual children, and even fewer that are valid and reliable. BESA answers the call for a bilingual assessment backed up with solid evidence of validity and reliability.
Culturally and linguistically appropriate. BESA subtests are different for each language; the Spanish subtest isn't just a translation of the English one. Dialects were taken into consideration—the norming sample included 17 Spanish dialects and 7 regional dialects for English—and items were developed for each language based on the markers, structure, and culture of that language.
Uncovers the full picture of a child's language development. Not only does BESA identify language impairments, it also helps you gauge progress in both languages and document a child's dominant language across different domains of speech and language. This critical information will help you plan interventions and educational programming for bilingual children.
Flexible and convenient. You can use each BESA component independently or combine them as part of an assessment battery. Choose which component you want to give—you're not required to administer both the English and Spanish subtests. BESA can also be given over multiple sessions, so you can easily fit it into your schedule.
Developers
What You'll Need
Includes
Test Manual
Stimulus Book
Protocol English Forms
Protocol Spanish Forms
BIOS Forms
ITALK Forms
Additional products and resources
You might also be interested in