The core textbook for all students in clinical methods courses
Introduction to Clinical Methods in Communication Disorders, Fourth Edition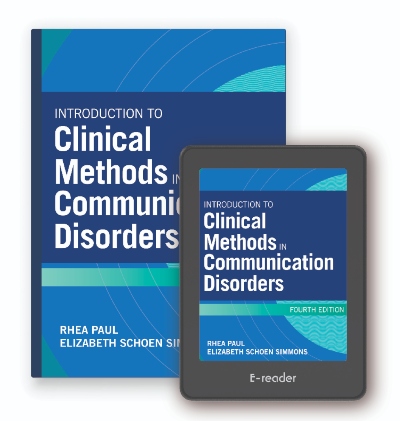 Fully updated and revised based on the 2020 ASHA standards and recent AAA standards, the new edition of this bestseller is the core textbook for all students in clinical methods courses. Covering a broad range of disorders and developmental levels, this text sets emerging professionals on the path toward mastering all the fundamentals of practice, from conducting effective assessment and intervention to ensuring that practices are family-centered and culturally inclusive.
Request Ebook Exam Copy
What's new in the fourth edition
New chapter on using principles of observation to gather accurate, valid data in clinical settings and more deeply understand clinical processes and procedures
Expanded information on intervention principles, with case studies highlighting practical applications and an emphasis on evidence-based practice
More on counseling in communication disorders, clinical documentation, relationships with supervisors, and single-case experimental design
Updated information on technology in clinical practice
New emphasis on automated analysis of communication samples
Chapters on clinical competence and family-centered practice by renowned experts
New student-friendly text features, such as learning objectives, study questions, and problem-solving questions
Case studies and clinical examples throughout
Reflects most recent ASHA and AAA standards
Want to learn more about this edition? See the full listing.
Supplement your teaching with these Online Companion Materials
Suggested projects that can be assigned to help to practice the principles outlined in each chapter
Test banks for each chapter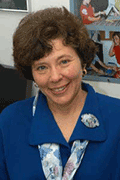 Rhea Paul, Ph.D., CCC-SLP
Dr. Paul is a professor and founding director of the speech-language pathology graduate program at Sacred Heart University in Fairfield, Connecticut, an affiliate at Haskins Laboratories, and Professor Emerita at Southern Connecticut State University.
Full bio »
Elizabeth Schoen Simmons, M.S., CCC-SLP
Ms. Simmons is a Ph.D. candidate in Cognitive Psychology at the University of Connecticut. She is
a National Science Foundation fellow and recipient of a predoctoral training grant funded by the
National Institute of Health to evaluate language processing using eye tracking and
electroencephalography in late talking toddlers.
Full bio »
Invited Contributors: David Andrews M.S., CCC-SLP, Nan Bernstein Ratner Ed.D., CCC-SLP, Ashley R. Brien M.S., CCC-SLP, Jessica A. Brown Ph.D., CCC-SLP, Charles H. Carlin Ph.D., Arlene E. Carney Ph.D., Brandon Eddy M.A., CCC-SLP, Marc E. Fey Ph.D., CCC-SLP, Lizbeth H. Finestack Ph.D., CCC-SLP, Brian A. Goldstein Ph.D., CCC-SLP, Nancy E. Hall Ph.D., Aquiles Iglesias Ph.D., CCC-SLP, Marie C. Ireland M.Ed., CCC-SLP, Barbara H. Jacobson Ph.D., CCC-SLP, Laura M. Justice Ph.D., Marta Korytkowska M.S., CCC-SLP, Ciara Leydon Ph.D., Jamie Marotto Au.D., CCC-A, Ellen Massucci M.A., CCC-SLP, Cristina M. Pino M.A., CCC-SLP, Patricia A. Prelock Ph.D., CCC-SLP, Taryn M. Rogers M.A., CCC-SLP, Raúl Rojas Ph.D., CCC-SLP, Mary Beth Schmitt Ph.D., CCC-SLP
View the table of contents
About the Online Materials for Faculty
About the Editors
About the Contributors
Acknowledgements
Chapter 1 Introduction to Clinical Practice in Communication Disorders
Appendix 1A 2020 Standards & Implementation Procedures for the Certificate of Clinical Competence in Audiology
Appendix 1B An Outline of Standards for the Certificate of Clinical Competence in Speech-Language Pathology
Chapter 2 Ethical Practice in Communication Disorders
Appendix 2A American Speech-Language-Hearing Association Code of Ethics
Appendix 2B American Academy of Audiology Code of Ethics
Chapter 3 Evidence-Based Decision Making in Communication Assessment and Intervention
Chapter 4 Principles of Communication Assessment
Chapter 5 Communication Sampling Procedures
Chapter 6 Communication Intervention: Principles and Procedures
Chapter 7 Professional Communication: Effective Counseling Techniques and Clinical Documentation Strategies
Appendix 7A Oregon Standard Individualized Education Program (IEP)
Chapter 8 Public Policies Affecting Clinical Practice
Chapter 9 Clinical Service Delivery and Work Settings
Chapter 10 Issues of Cultural and Linguistic Diversity
Chapter 11 Technology and Communication Disorders
Chapter 12 Family-Centered Practice
Chapter 13 Principles of Observation
Appendix Suggested Projects for Students
Glossary
Index