Interventions for Speech Sound Disorders in Children, Second Edition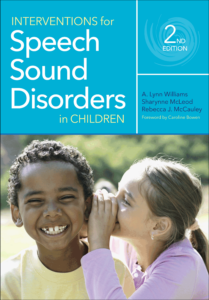 An essential building block of every speech-language pathologist's professional preparation, the second edition of this bestselling textbook is a comprehensive critical analysis of 21 interventions for highly prevalent speech sound disorders (SSD) in children.
Bringing together a powerhouse team of international experts, this new edition has been revised and enhanced with current research, new interventions, more guidance on selecting interventions, and updated video clips that show the approaches in action. For each intervention, readers will get a clear explanation of its robust evidence base, plus thorough guidance on implementing the approach, monitoring progress, and using the intervention with children from culturally and linguistically diverse backgrounds.
Want to learn more about the new edition? Check out the following resources:
Request an Exam Copy
Are you a faculty member interested in adopting this edition? Request your exam copy today!
Request Exam Copy