Fundamentals of Literacy Instruction & Assessment, Pre-K–6, Second Edition
Edited by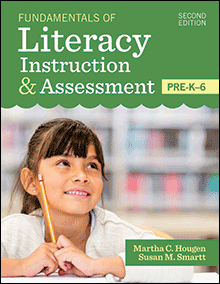 Increase the reading and writing achievement of each student with the second edition of this comprehensive text, which helps educators understand the science of reading and how to implement evidence-based instruction with all students, including those at risk for reading difficulties. Fully revised and updated, this core text covers the research base for using a structured literacy approach and practical guidance on the essential components of literacy instruction: oral language, phonemic awareness, phonics, vocabulary, fluency, comprehension, handwriting, spelling, and writing.
Includes new chapters on:
• assessment basics
• development of social-emotional skills
• advanced word study
• technology for elementary literacy instruction
• standards to guide instruction
• language development
• literacy instruction for English Learners
NEW ONLINE COMPANION MATERIALS! Online Resource Appendix addressing each topic, PowerPoint slides for each chapter, an answer key for the Knowledge Assessment questions, and sample lesson plans.
Want to learn more about the new edition? Check out the following resources:
A handy resource that shows you what's been added and updated in the new edition.
Request an Exam Copy
Are you a faculty member interested in adopting this edition? Request your exam copy today!
Request Exam Copy