Understand the science of reading and how to implement evidence–based instruction
Fundamentals of Literacy Instruction & Assessment, Pre-K–6, Second Edition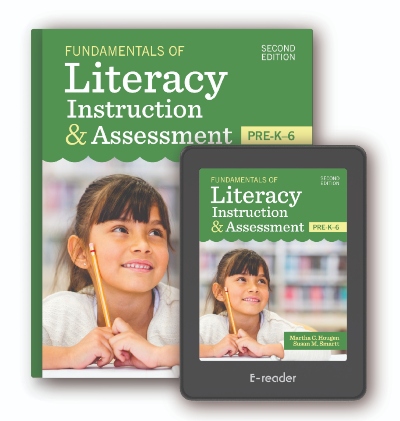 Edited by
Listed by the National Council on Teacher Quality's 2020 Teacher Prep Review as one of 14 exemplary texts covering all five elements of effective reading instruction!
Increase the reading and writing achievement of each student with the second edition of this comprehensive core text, which helps educators understand the science of reading and how to implement evidence-based instruction with all students, including those at risk for reading difficulties.
Request Exam Copy
What's new in the second edition
New chapters focused on: assessment basics· standards to guide instruction · development of social-emotional skills and early language · advanced word study · English learners · supportive technology · role of reflection in planning instruction
Revised chapters on: foundational skills of literacy acquisition and instruction to develop phonological and phonemic awareness · basic phonics · beginning and advanced handwriting, spelling, composition, and strategic writing · fluency · vocabulary · comprehension · disciplinary literacy · integrated lesson plans
New features: Reflect boxes that encourage critical thought · multiple-choice Knowledge Assessment questions · revised Application Activities · vignettes, case studies, numbered text boxes, and sample activities and scripts
Updated information on: structured literacy · data-based decision making · MTSS · metacognitive awareness · formal and informal assessments to guide instruction · standards-based instruction including the Common Core State Standards and the Knowledge & Practice Standards for Teachers of Reading
Want to learn more about this edition? See the full listing.
Supplement your teaching with these Online Companion Materials
Sample syllabi
Online Resource Appendix addressing each topic
PowerPoint slides for each chapter
An answer key for Knowledge Assessment questions
Sample lesson plans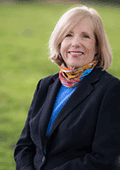 Martha C. Hougen, Ph.D.
As a general and special education teacher, public school administrator, and university faculty member, Dr. Hougen has dedicated her work to improve the achievement of students who struggle with learning. She supports teacher educators, teacher candidates, classroom teachers, and specialists to implement the science of literacy.
Full bio »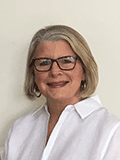 Susan M. Smartt, Ph.D.
As a senior research associate at Vanderbilt University, Dr. Smartt engaged in research, writing,
and teaching focused on improving teacher preparation in reading. Previously, she was a
national literacy consultant with state departments, teacher preparation programs, and local
school districts focusing on school reform, reading intervention for low-performing schools, using data to inform practice, developing Response to Intervention initiatives, and implementing scientifically based literacy programs.
Full bio »
Invited contributors: Stephanie Al Otaiba Ph.D., Elsa Cárdenas-Hagan Ed.D., CCC-SLP, Suzanne Carreker M.Ed., Ph.D., Christie L. Cavanaugh M.Ed., Ph.D., Elaine Cheesman Ph.D., Stephen Ciullo Ph.D., Sally Valentino Drew Ph.D., Darcy Dycha M.Ed., Susan M. Ebbers M.S., Vicki Gibson Ph.D., Jan Hasbrouck Ph.D., Heather A. Haynes Smith Ph.D., Karin K. Hess Ed.D., Kristie Hotchkiss M.S., Susanne James Ph.D., Natalie G. Olinghouse Ph.D., Miriam Ortiz Ph.D., Deborah K. Reed Ph.D., Colleen Klein Reutebuch Ph.D., Holly Tate Rocha M.S., Carol Tolma Ph.D., Joshua Wilson Ph.D.
View the table of contents
About the Online Materials
About the Editors
About the Contributors
Preface
Acknowledgments
Section I   An Introduction to Literacy Instruction and Assessment
1  Becoming an Effective Literacy Teacher
2  Critical Components of Teaching Structured Reading
3  Assessment Basics
4  Using Standards to Guide Instruction
5  Foundational Skills for Literacy: Social-Emotional Skills and Language Development  
Section II   The Foundational Skills of Literacy Acquisition and Instruction
6  Oral Language and Listening Skill Development in Early Childhood
7  Phonological Awareness: A Critical Foundation for Beginning Reading
8  Basic Phonics
9  Advanced Word Study
10  Beginning Handwriting, Spelling, and Composition Instruction
11  Fluency Instruction     
12  A Comprehensive Approach to Vocabulary Development
13  Comprehension Instruction: Grades K–3
14  Reading Comprehension Instruction: Grades 4–6
15  Disciplinary Literacy
16  Strategic and Meaningful Writing Instruction
Section III   Instructional Considerations to Enhance Effective Literacy Instruction
17  Literacy Instruction for English Learners
18  Technology for Elementary Literacy Instruction
19  Moving Forward: The Role of Reflection in Planning Literacy Instruction
Conclusion  Ten Tips to Becoming an Effective Teacher
Appendix A: What to Include in Your Tutoring Toolbox
Appendix B: Directions for the Jigsaw Activity
Appendix C: Lesson Plan Template
Appendix D: List of Assessments, Screening, and Progress Monitoring Tools
Appendix E: Directions for a Sticky Board
Glossary
References
Index