RTI in Early Childhood webinar series
How can you use RTI to help improve young children's outcomes?
Learn about the role of tiered intervention in bolstering social-emotional, behavioral, and academic development
Explore our RTI in Early Childhood webinar series to learn about:
progress monitoring and RTI,
tiered instruction in early childhood settings (specifically with dual language learners),
embedded instruction to support early learning in RTI frameworks,
preschool inclusion and RTI for children with disabilities, and
statewide structures and supports for effectively implementing an early childhood RTI system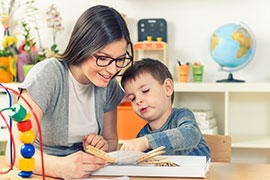 Progress Monitoring and Its Applicability for Use in RTI
Progress monitoring measures have come to the forefront of educational assessment with the emergence of RTI frameworks for identification of children with learning difficulties. The CIRCLE-Phonological Awareness, Language, and Literacy System (C-PALLS)—a progress monitoring tool for pre-K classrooms—is recognized to be strong predictor of academic success in kindergarten.In this webinar, learn how C-PALLS informs effective instructional practices for at-risk students, and helps ensure that the classroom teacher can provide quality instructional supports to all children in the classroom.
Presented by: Susan Landry
Original broadcast: April 17, 2014
All, Some, and a Few: Tiered Instruction in Early Childhood Settings
Recognition & Response (R&R), a promising tiered model of instruction for early childhood programs, promotes learning through quality instructional practices for all children and targeted interventions for some children.Join this free webinar to learn how this model of RTI is designed to match children's individual learning needs, enhance development in young children, and ensure early school success.
Presented by: Virginia Buysse and Ellen Peisner-Feinberg
Original broadcast: May 6, 2014
Embedded Instruction to Support Early Learning in RTI Frameworks
Embedded instruction has been demonstrated to support children's participation in the general preschool curriculum while addressing individualized learning and instruction needs. It focuses on providing instruction based on children's learning targets during everyday activities, routines, and transitions.In this webinar, learn the components and practices of embedded instruction and how it can be used across tiers of RTI frameworks.
Presented by: Pat Snyder
Original broadcast: May 13, 2014
Preschool Inclusion and RTI for Children with Disabilities
Integrating preschool inclusion and RTI principles in early childhood programs is sorely needed in the age of accountability. While there are challenges to integrating both movements, this free webinar explains how elements of the individualized educational program (IEP) and RTI processes might strengthen preschool inclusion.
Presented by: Bill Brown
Original broadcast: May 29, 2014
Response to Intervention in Early Childhood Settings: An Overview
As early childhood programs across the country consider whether and how to implement Response to Intervention (RTI), it is important for practitioners and administrators to get reliable, up-to-date information to ensure that RTI practices are appropriate and effective for young children.
This free webinar provides an overview of how RTI is designed to work within early childhood settings. You'll learn about what features define RTI, who implements it, who benefits from it, how it fits within existing programs and practices.
Presented by: Virginia Buysse and Ellen Peisner-Feinber
Original broadcast: October 9, 2013
The RTI Model and its Role in Early Mathematics
Early mathematics achievement sets the stage for overall school success, and RTI has a special role in improving mathematics achievement.
Learn how all three tiers of an RTI model can be incorporated in early childhood mathematics education programs to foster young children's mathematical interest, thinking, learning, and understanding in early education settings.
Presented by: Herbert Ginsburg
 
Original broadcast: October 21, 2013
Assessing Preschoolers' Social-Emotional and Behavioral Skills within an RTI Model
The goal of social-emotional assessment within an RTI framework is early identification of young children with challenging behaviors who are at risk for problems in their formal school years.
Learn about the importance of proactive assessment and how to use an RTI approach to address behavioral concerns and provide the appropriate level of support and intervention.
Presented by: Andy J. Frey and Edward G. Feil
Original broadcast: October 24, 2013
Statewide Structures and Supports for Effectively Implementing an RTI System in Early Childhood
Early childhood comprises multiple systems and settings, all of which must collaborate in order to ensure successful implementation of RTI.
This webinar will lead you to understand the key dimensions of supporting RTI from a state-level perspective, methods for interagency collaboration, and best practices to ensure effective implementation and delivery of RTI among all settings.
Presented by: Thomas Rendon
Original broadcast: October 28, 2013
The Role of an RTI-based Approach in Addressing the Learning Needs of Young DLLs
Learn how to address learning and development of young dual language learners (DLLs) with the RTI-based framework, Recognition & Response for Dual Language Learners (R&R-DLL). And, understand how R&R-DLL improves instruction for DLLs through an example of adapting the assessment and instruction components of this RTI-based approach.
Presented by: Doré R. LaForett
Original broadcast: November 4, 2013