Louisa Anastasopolous, M.P.P.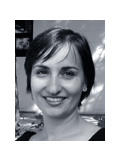 Louisa Anastasopolous, M.P.P., is the co-author of ELLCO.
Ms. Anastasopoulos has extensive knowledge of early language and literacy development and a decade of experience managing language and literacy related research and evaluation projects in the Learning and Teaching Division at Education Development Center, Inc.
A graduate of Colby College, Ms. Anastasopoulos earned a master's in public policy with a focus on education from the Georgetown Public Policy Institute.