Laura Reid, M.Ed.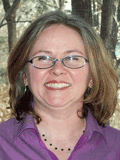 Laura Reid, M.Ed., is a project manager with Quality Assist, Inc., in Atlanta, GA, providing training and technical assistance to early childhood teachers and programs. She has used the ELLCO for over four years to collect classroom data and has trained data collectors in its use.
Ms. Reid's past experience includes working with family child care providers and infant-toddler classrooms in a variety of child care programs; managing an Early Reading First Project; and, most recently managing Early Learning Mentor Coach projects. She also worked for several years as a first grade teacher.
Ms. Reid holds a Masters of Education in Elementary Education and a Bachelor of Arts in Early Childhood Education from the University of North Carolina at Chapel Hill.