Jana Crosby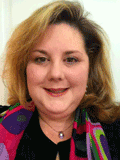 Jana Crosby, an educational consultant and certified reading specialist, has over 16 years experience in the field of education, with 12 of those years spent training in the area of early childhood. She holds a Master of Education in Reading and a Bachelor of Arts in Special Education from Harding University in Searcy, Arkansas. She is certified in special education, elementary education, kindergarten, and reading, and has taught in a  variety of classroom settings.
Ms. Crosby observes classrooms using the ELLCO Pre-K, teaches the use of ELLCO Pre-K, and effective literacy strategies to early childhood educators, models in early childhood classrooms, monitors both teacher and student progress, supports coaches, and provides reliability training for ELLCO Pre-K observation teams. he has provided training to over 15 U.S. Department of Education Early Reading First grants (ERF) since 2002, and has worked on a recurring basis with eight of them.
Prior to working with ERF grants, Ms. Crosby taught in special education, designed and implemented the Reading Achievement Program (RAP), which served infants–adults at Martha O'Bryan Center in Nashville, Tennessee, and was the lead professional development provider for United Way of Metropolitan Nashville's Read to Succeed Project.
In addition to working with several ERF grants, Ms. Crosby is a national trainer for ELLCO Pre-K and  early childhood curricula. She is a past president of the Tennessee Reading Association, a member of the International Reading Association's Early Literacy Task Force, and serves on the board  of Nashville Area Association for the Education of Young Children (NAAEYC). She is a member of the Tennessee Association for the Education for Young Children (TAEYC) and the National Association for the Education of Young Children (NAEYC).