FOR IMMEDIATE RELEASE
Contact: Christina Davis, Brookes Publishing
410-337-9580 x120; cdavis@brookespublishing.com
Sleep Better! helps families find bedtime solutions that work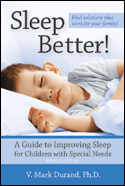 Baltimore, Maryland (February 2014) How can parents of children with sleep issues help them get the sleep they need? Guidance on solving sleep issues such as bedtime tantrums, night waking, sleep terrors, bed-wetting, insomnia, sleep schedule problems, and more are found in Sleep Better! A Guide to Improving Sleep for Children with Special Needs, Revised Edition—the down-to-earth, nonjudgmental guide that's packed with widely tested step-by-step solutions that work for all children—with and without disabilities.
Highlighting the pros and cons of various interventions, psychologist and autism spectrum disorder expert Dr. Mark Durand emphasizes that there isn't a "one right way" approach and encourages families to choose the solution that works best for them. In this revised edition, Dr. Durand incorporates his popular optimistic parenting approach to help families develop positive attitudes so they can confidently try interventions and effectively help their child get the sleep he or she needs.
Engaging case studies illustrate the flexible and easy-to-use strategies, practical features such as a behavior log and sleep diary help families learn the nature of their child's sleep problems, and the step-by-step Sleep Interview helps parents identify the type of sleep problem their child is experiencing so they can pinpoint a treatment that works.
Peter Doehring, Ph.D., director of ASD Roadmap, shares his praise of the book: "Parents struggling to help their child with special needs to sleep better can get clear and straightforward guidance for a wide range of problems, richly illustrated with case studies. Even experienced professionals will find much to learn."
Inspired by many sleepless nights with his own child, this book delivers proven techniques from Dr. Durand's clinical and personal experience, making it a one-of-a-kind resource for families and professionals.
To learn more about Sleep Better!: A Guide to Improving Sleep for Children with Special Needs, Revised Edition (Brookes Publishing, 2014), and to read the chapter on good sleep habits, visit http://bit.ly/DurandSleepBetter.
About the Author

V. Mark Durand, Ph.D., is known worldwide as an authority in the area of autism spectrum disorder. He is a professor of Psychology at the University of South Florida St. Petersburg. Major themes in Dr. Durand's research include the assessment and treatment of severe behavior problems for children and adults with autism, parent training, and the development of treatments for child sleep problems. As a fellow of the American Psychological Association, Dr. Durand has received more than $4 million in federal funding to study behavior problems in children with disabilities.
About Brookes Publishing
For 35 years, Brookes Publishing has been the premier publisher of practical, researched-based resources that boost the learning and success of all people, with and without disabilities. Brookes Publishing is headquartered in Baltimore, Maryland. For more information, please visit www.brookespublishing.com.